Meet Dr. Rod & Linda Handly
Chiropractic Care Runs in the Family for this Renton Native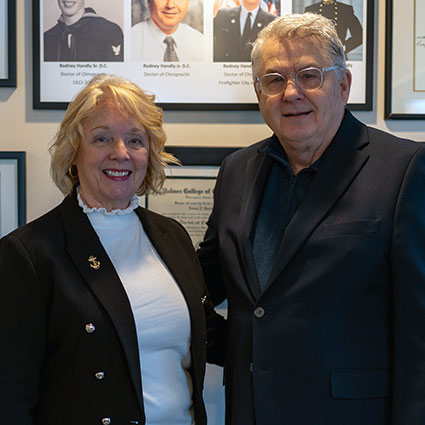 Linda and Dr. Rod started their relationship very early when they attended kindergarten together. They started going steady at Linda's fifteenth birthday party, and were married in their senior year at Renton High School. Dr. Rod III, their only son, is also a chiropractor and a City of Lynnwood firefighter.
Linda and Dr. Rod work as a team in their clinic providing a friendly and positive experience for all of their patients.
Dr. Handly is from a family of chiropractors. His father, brother, sister-in-law, brother-in-law, uncle, aunt, and son are all Chiropractors. He was born and raised in Renton, Washington. He and Linda graduated from Renton High School in 1968, and moved to Iowa where Dr. Handly received his Doctor of Chiropractic degree from Palmer College of Chiropractic in 1973. While practicing in Washington, two different governors, Republican and Democratic, appointed him to serve on the Washington State Chiropractic Examining Board, which tested the chiropractic candidates basic competency for licensure between 1984 and 1994.
They ran a busy clinic in Renton seeing over 20,000 people during this time. They lectured at chiropractic seminars, mentored other chiropractors and were involved politically in the community.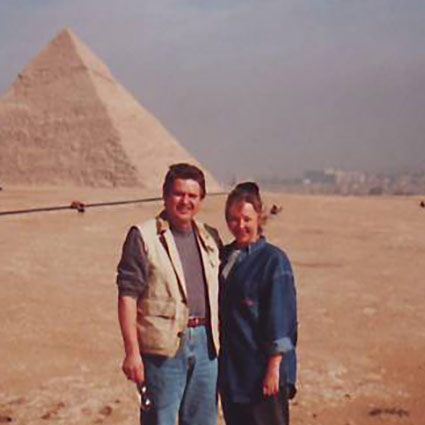 Bringing Chiropractic Around the World, Together
In 1994, Linda volunteered herself and Dr. Handly to live and work in Cairo, Egypt, to introduce chiropractic into the Egyptian healthcare system. He practiced, lectured, and conducted research for 3 years at El Demirdash Hospital's Dept. of Neurology, at Aim Shams University School of Medicine, while Linda assisted with practice members and maintained the research documents and data. They also worked with the Egyptian military introducing chiropractic practice at Al Agosa Medical Center serving the soldiers and military families. They were privileged to care for the poorest people of the street, Olympic athletes, senior ministers in the government, and one of President Mubarak's security men, who was injured after saving the President from an assassination attempt. Dr. Handly and Linda returned from the Middle East and worked for Life University organizing international programs with governments around the world and the World Health Organization. He taught first-year chiropractic students and created Chiropractors Without Borders, a humanitarian nonprofit group, sending chiropractors and mobile units to developing countries.
Returning to Renton
After their first grandchild, Chase, was born, Dr. Handly and Linda returned in 2002 to Renton to resume private practice at Handly Chiropractic Clinic, which was run by their son, Dr. Rod Handly, III, while they were gone. Linda & Dr. Handly have grown up &  worked together for 60 years from high school to 48 years in private practice. They've retired from all international & political involvement to settle in and concentrate on caring for their patients, volunteering in the community, and enjoying family & the great Northwest and don't plan to retire from practice any time soon, as they truly enjoy serving and taking care of people.
---
Dr. Rod & Linda Handly | (425) 255-6202